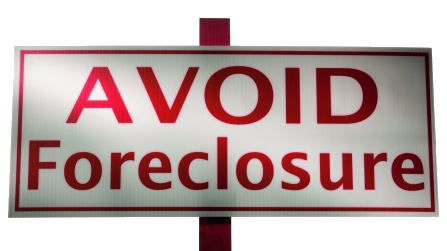 How to Avoid Foreclosure
The last thing any homeowner wants to think about is losing the family home. No one expects to lose their house to foreclosure, but by understanding the foreclosure process and what may lead up to it, you can be in a better position to recognize and address potential problems that may impact your ability to make every mortgage payment on time.
What is foreclosure?
In the contract you signed when your mortgage lender loaned you money to buy your house, you agreed that if you can't repay the loan, the lender can foreclose to take ownership of the house.
If you do not pay your monthly mortgage payment, you are technically in default on your mortgage. State laws vary, but generally, a loan that is as little as 90 days delinquent can be considered in foreclosure.
Your lender may send you a notice indicating that they are starting foreclosure proceedings, but don't wait; take steps to prevent a foreclosure as soon as you realize you are having trouble paying the mortgage!
Have a Plan B.
Don't wait until you're in a financial predicament before assessing your options. The time to develop a backup plan is not when things have gotten so bad that you are facing foreclosure, but when things are going well and you can prepare for the unexpected "what if's" that happen in life.
What are the warning signs of foreclosure?
Unexpected life changes are often a contributing factor to foreclosure – especially those that impact your finances, such as:
Loss of employment or reduction of hours
Major illness or injury
Divorce or separation
Death of a spouse
What makes it so difficult to think about foreclosure during times of crisis is that you are so focused on the problem at hand and not likely to have the time or energy to think about how it could impact other aspects of your life. That is why a plan that was developed before any problem starts is the best protection.
If you have a "Plan B" in place, you won't have to organize your finances while you are stressed about finding a job or dealing with a major illness. The plan will already be done – you will need to just follow it.
Financial warning signs
There may not be a major life change to signal potential trouble – you simply may be having a difficult time properly managing your finances. Don't be fooled into thinking your credit card problems won't affect your mortgage. It is important to realize that financial difficulties in one area can, and often do, spill over to other areas. These difficulties are all warning signs of financial problems that can lead to foreclosure on your home if you do not act quickly. They include:
Maxing out credit cards
Using credit to pay for day-to-day expenses, such as groceries, utilities, etc.
Being unable to pay your bills on time
Paying only the minimum amount on credit cards
Applying for new credit cards after maxing out on existing ones
Having to choose which bills to pay
Talk to a housing counselor immediately if you see these signs (see sidebar for help finding a legitimate counselor). You may be able to get your finances back on track before foreclosure becomes a reality.
Early Steps to Prevent Foreclosure
You already know a Plan B is important, but what should it include? The first steps to take in creating your plan are to:
Save money.
Put away some money each month to have an emergency fund in case something unexpected happens, such as losing your job. You should have several months of housing costs saved to protect you from unexpected financial problems.
Reduce expenses.
Think about where you can save money; for instance, temporarily canceling cable or your gym membership. By paring down to the bare necessities, you may be able to save a significant amount of money. And even if it doesn't seem like enough of a savings to make a big difference, remember – every little bit helps.
Use our budget worksheet [PDF 73K] to help think about which changes you can make if you find yourself facing financial difficulties.
If you've put your Plan B into action and still find yourself having trouble paying the mortgage, you should:
Call your lender.
This is the single most important thing you can do. Lenders want borrowers, not properties – they would prefer to see you keep your home. Most will work with you while you get back on your feet.
Be honest with your lender.
Different situations require different solutions. It will matter to your lender to know if your financial problems are temporary, for example, due to an injury that puts you out of work for a few months, or are more long term, such as a cut in pay or a layoff.
Know what you owe.
Have a clear picture of what your debts are and make your mortgage the priority if you have to make choices. Debt collectors can be very aggressive, but if you can't pay all your debts, make sure your home is protected from foreclosure by paying your mortgage.
Talk to a housing counselor.
A non-profit housing counseling agency may be able to help you restructure your bills so that you have an easier time paying them. Additionally, they can help you create a budget that suits your specific needs.
Contact a housing non-profit.
A housing non-profit can give you valuable advice. The HOPE National helpline, 888-995-HOPE, is dedicated to helping homeowners facing foreclosure 24 hours every day. Spanish – speaking counselors are available.
Dos and Don'ts of Foreclosure
Facing a foreclosure is a scary thing, but there are things you should do – and shouldn't do – to avoid making the situation worse.
DO answer the phone and read your mail.
Avoiding your lender won't make the problem go away. In fact, it will only make the problem worse. Your lender may be able to help you, so be sure to answer the phone and read any mail they may have sent you.
DO realistically assess your situation.
Are your financial problems temporary? If you are temporarily out of work and will be fine once you find a new job, call your lender. Lenders may be able to offer a forbearance or repayment plan.
DO consider your options.
If you are not in a position to keep your home, consider selling it before you face a foreclosure. If you have already missed a mortgage payment, call your lender. There may be purchase options, like a short payoff or assumption (see sidebar) that help avoid foreclosure.
DO be aware of certain financial responsibilities.
Even if your lender sells your property, you may still be responsible for the difference in the sale price and what you owe. It is also important to realize that you may be responsible for certain taxes when a lender forecloses on your property. However, the IRS does provide tax relief in certain situations.
DO protect your wealth.
Recognize that you may have significant equity in your property that must be preserved.
DON'T move out of your home.
In order to qualify for assistance, homeowners are often required to be living in their home. Be sure to talk to your lender before you think about moving.
DON'T ignore the problem.
It may be possible to keep your home, but if you wait to take action, fewer options will be available. You have certain rights and can take certain actions to help you keep your home; however, you only have a limited amount of time to assert those rights or take those actions.
Talk to a lawyer or legal aid organization, since your rights vary from state to state. Most states and large cities have legal aid organizations; to find one near you, go to the Legal Services Corporation Foreclosure Help, a government-sponsored organization that provides high-quality civil legal assistance to low-income Americans.
DON'T convince yourself you can afford a home if you can't.
Most lenders will only lend what a borrower can afford, but some less scrupulous lenders will allow borrowers to get in over their heads. In some cases, a home that was affordable becomes unaffordable due to changes in your life circumstances. If your mortgage is truly beyond your means, consider selling your home and purchasing a less expensive home or renting for a period of time before the only option left is foreclosure. Call your mortgage company; they may be able to help you avoid foreclosure by agreeing to an assumption or a short payoff.
DON'T fall victim to a scheme.
Some people want to profit by your misfortune by offering to contact and conduct all work-outs and negotiations with your lender on your behalf – for a fee. View a helpful video Freddie Mac posted YouTube titled "Foreclosure Scams 101."
Recognizing predatory lenders
Unfortunately, when dealing with foreclosure not all mortgage lenders or credit repair companies have your best interest in mind. Beware of predatory lending traps, such as:
High-Risk Second Mortgages.
These may seem like a good option, but be cautious – they could further complicate the problem.
Unsolicited "Loan Approvals."
Predatory lenders often send homeowners information stating that they are pre-approved for a loan. Although a loan can look very attractive if you are desperate to avoid foreclosure, talk to your lender, not a stranger. If refinancing is your best option, your lender will let you know.
Refinancing to Access Equity.
By stripping your home of equity, you may actually be going further into debt – decreasing your chances of keeping your home. Again, talk to your lender or a reputable housing counselor before making any decisions.
Equity Skimming.
A buyer may offer to pay off your mortgage or sell your property if you sign over the deed and leave your house. Don't do it. Your lender may be able to help you, but usually only if you still live in your home.
Phony Counseling.
Reputable counseling is readily available – often free of charge. Be sure you are talking to a reputable agency or the counseling could hurt instead of help you.
Don't Sign What You Don't Understand.
Some predatory lenders can be aggressive in trying to get you to sign paperwork. If you are unsure, don't sign. Take the paperwork with you and go over it with a trusted advisor. If the paperwork is legitimate, the lender should have no problem if you want to review it.
Where to Get Help
Your biggest ally if you encounter difficulty paying your mortgage on time is often your lender. Don't wait – call them as soon as you know you are having problems. The HOPE National Helpline is open 24 hours and provides free assistance. Contact them at 888-995-HOPE.
Additional housing agencies that may be able to help you with confidential budget and debt counseling include: